Dr.-Ing.
Thomas Käster, PhD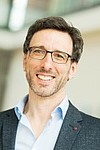 Data Scientist, Project Manager
Raum 1.018

Institut für Neuro- und Bioinformatik
Ratzeburger Allee 160 (Geb. 64)
23562 Lübeck

Research interests
The research interests of Thomas Kaester lie in the field of computer vision, pattern recognition, machine learning, image processing, and computer graphics. In particular, he is interested in:
big data and analysis
object detection, tracking and recognition
human-machine interaction
medical image processing
action detection and classification in videos
computer animation and visualization
the design of intelligent / cgnitive vision systems
image and video retrieval (including short-term and long-term learning)
industrial image processing
SUPERVISION - Theses
Current:
| | | |
| --- | --- | --- |
| Mathis Lichtenberger | Bachelor | iPhone Foto App Entwicklung |
Finished:
Florian Markowsky
Bachelor
Konzeption und Implementierung eines Systems zu Time-of-Flight Kamera basierter Navigation in Videos
Dirk Hansen
Diplom
Fast Object Detection

Michael Brehler

Master
Tissue Segmentation and Analysis
Tobias Meyer
Master
Object Recognition and Retrieval
Kai Röhr
Bachelor
Image Stitching and Mosaicing
Tobias Mende
Bachelor
Merkmalsbasierte Qualitäts- und Ästhetikbewertung von Fotografien
Sebastian Fischer
Bachelor
Computergestützte Herstellung von Biochips durch den Einsatz von Bildverarbeitungsmethoden
Frederick Kaiser
Bachelor
Einsatz digitaler Bildverarbeitung zur Analyse von Zellkulturen
Thomas Klähn
Diplom
Konzeption und Implementierung eines Systems zur inhaltsbasierten Bildsuche
Marten Heidemeyer
(Bachelor)
Bachelor
Object Recognition and Scene Classification
Imre Goretzki
Autobildkollage
Jason Krause
Bachelor
Entwicklung einer Stereobild-basierten Anwendung auf einer Mobilplattform
OPEN Thesis TOPICS
Brain Tissue Segmentation and Analysis (Mdical Image processing)
Automatic Image Tagging (Computer Vision)
Object Detection (Computer Vision)
Scene Classification(Computer Vision
Internships
Christina Kluck, 01.10.2012 bis 28.02.2013: Klassifikation von Zellen mittels Durchlichtaufnahmen.
Student Assistants
Sebastian Fischer
Marvin Töllner
Sven Friedrichs
Former Student Assistants
Projects
Project manager of cooperation with EUROIMMUN AG
2015
2014
2013
2012