Prof. Dr.-Ing.
Erhardt Barth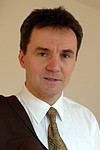 Stellvertretender Direktor

Institut für Neuro- und Bioinformatik
Ratzeburger Allee 160 (Geb. 64)
23562 Lübeck

Current research interests
Main research interests are in Computer Vision and Machine Learning. A further interest is in biological vision, which is used as a source of inspiration for solving computer vision problems and for building enhanced vision systems that can compensate the strengths and weaknesses of both human and computer vision.
Brief biography
Prof. Barth leads the research on human and machine vision at the INB. He obtained his Ph.D in Electrical Engineering from the Technical University of Munich in 1994, was a Research Associate at the Department of Communications Engineering in Munich and a Visiting Fellow at the Department of Computer Science, Melbourne University, Australia, where he was supported by the Gottlieb-Daimler and Karl-Benz Foundation. He then was a researcher at the Department of Medical Psychology, University of Munich, and a Klaus-Piltz fellow at the Institute for Advanced Study in Berlin. In 1997/98 he was a member of the NASA Vision Science and Technology Group at NASA Ames, Moffet Field, California. In May 2000 he received a Schloessmann Award from the Max-Planck Gesellschaft. Since then, he initiated and conducted a number of basic and applied research projects, and started a few companies (e.g. ARTTS, GazeCom, PRC, gestigon).
---
---
2022
2021
2020
2019
2017
2016
2015
2014
2013
2012
2011
2010
2009
2008
2007
2006
2005
2004
2003
2002
2001
2000
1999
1998
1997
1996
1995
1994
1993
1991
1990
1989