Dr. Laura Pomarjanschi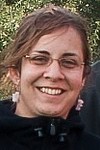 Software Developer

EUROIMMUN AG
Werkstraße 2
23942 Dassow


| | |
| --- | --- |
| Email: | |
| Phone: | +49 451 58550 |
| Fax: | |
Research interests
computational and computer vision machine learning
Curriculum vitae
September, 2011 -present Postdoctoral Research Fellow with Dav id Cox at the Rowland Institute at Harv ard, USA
DAAD grant: Saliency and attentional modelling for bio-inspired computer v ision sy stems.
January, 2007 -August, 2011 ResearchAssistantattheInstituteforNeuro-andBioinformatics,University ofLübeck,Germany GazeCom project: Gaze-based Communication.
October, 2001 -July, 2006 M.Sc. in Computer Science, specialization Intelligent Sy stems at the Babes-Boly ai Univ ersity , Cluj-Napoca,
Romania, and at the Eötv ös Loránd Univ ersity , Budapest, Hungary .
My publications
Demo material to Vig et al., Intrinsic dimensionality predicts the saliency of dy namic natural scenes, IEEE
Transactions on Pattern Analysis and Machine Intelligence, 34(6):1080-1091, 2012.
2013
2012
2010
2009